I don't normally write reviews of Business Class lounges – since the whisky collection is usually pretty minimal and inconsistent. But this is my first experience of finding a fully-stocked whisky selection that rivals dedicated whisky bars, so I thought I would share.
When traveling in Europe, I find Lufthansa Senator lounges pretty decent experiences, and better than most Business Class lounges (including Lufthansa's own Business lounges). But a whole new experience for me was the SWISS Senator Lounge in the Terminal E building of the Zürich Flughafen (ZRH) airport.
While SWISS International Airlines is a member of Star Alliance, only some of their  lounges in Zurich are open to non-SWISS flight passengers. They recently built a suite of new super high-end lounges in the Terminal E building, including an exclusive First Lounge, the Senator Lounge (open to Star Alliance Gold), and a regular Business Lounge (which is appended to the Senator lounge). They are located on the 3rd floor (with elevator access), close to Gate E37, and are open from 06:00 – 22:30.
Access is a bit complicated – this Senator Lounge E is open to First Class passengers on SWISS, Lufthansa and Star Alliance, as well as frequent fliers who hold status as HON Circle, Miles & More Senator, and Star Alliance Gold. Regular Business Class passengers on any of the above airlines without such status don't have access to the Senator Lounge E, only the smaller Business Lounge.

The Senator Lounge E has a lot going for it – great food (personal chef to make an egg breakfast however you would like), very spacious design and set up (including outdoor seating area), and all the usual amenities (showers, business workstations, etc.). But what really distinguishes the Senator Lounge is the "Whisky Club 28/10" – a whisky Bar with a choice of over 200 whiskies.
Surprisingly to me, this whisky bar is open the whole time the lounge is (I was there at 07:30 last week), with a server on duty.  The whisky bar is also complimentary – there is no charge for any of the whiskies on hand. Over 180 were on display, shown below, with more out of site behind the bar.  Depending on your browser, doube-click or right-click on any of the images below, and then view image (should take you to my photobucket account, where you can zoom in to see higher resolution pics of all the visible bottles).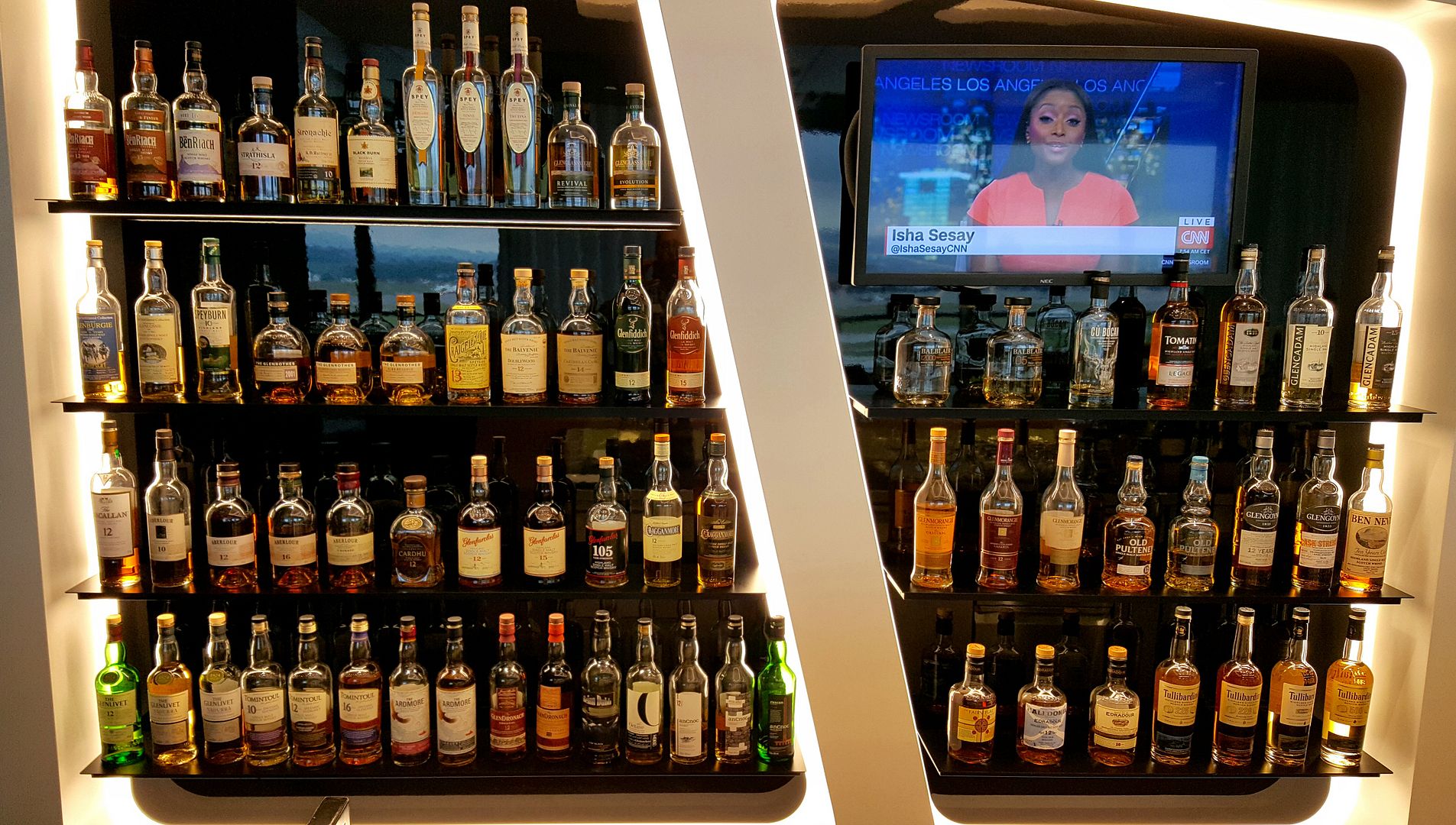 As you would expect, the bar is well stocked with entry-level bottles from across the world of malt whiskies, blends and bourbons. Impressively, most of the single malts have age statements (typically in the 10-16 year old range). There are some older bottles interspersed, including some independent bottlings (i.e., several Signatory, in the ~19-21 year old range).  It's also a great place to try out Swiss whiskies as well (16 bottles on hand).
Given the early hour, I only sampled two. 😉  Reviews coming soon.
If you are traveling through Zurich and have appropriate status (or are traveling First Class), it is well worth checking out. Note that if you are not departing from Terminal E, there is a passport control station and a subway connecting you to the main terminal. So you would need to give yourself plenty of time to make your connection back and forth to the main terminal A/D gates.
You can read a full review of this lounge – with detailed pics of all the amenities – from one of the well-known airport lounge bloggers, the Points Guy. I agree with his take on this lounge.